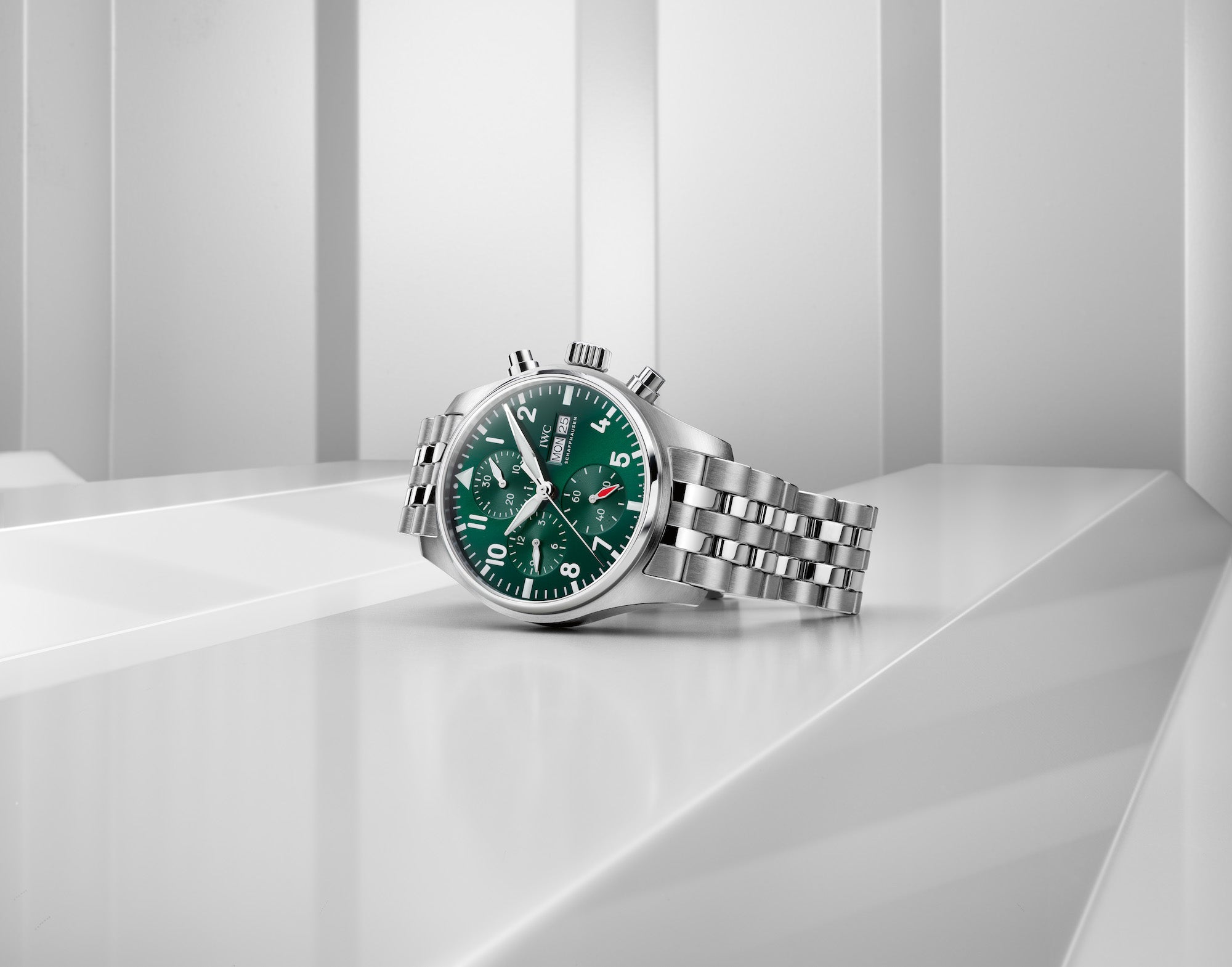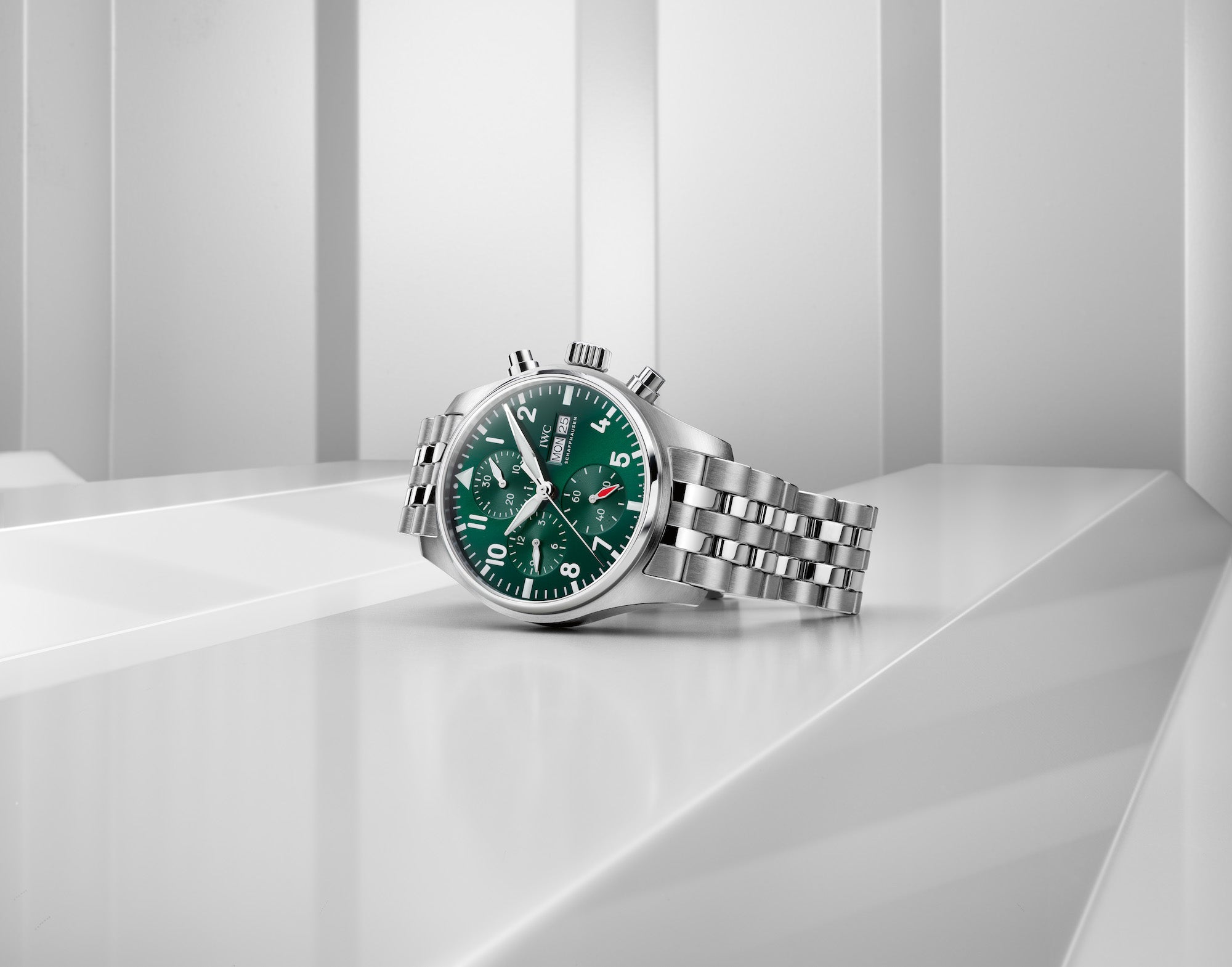 IWC TILFØJER 41-MM KRONOGRAFER MED IN-HOUSE KALIBRE TIL PILOT'S KOLLEKTION
Ref. 5470P-001 1/10. The second Monopusher Chronograph
Patek Philippe unveils its first chronograph work watch with a chronograph to tenths of a second short time measurements with a new, highly accurate and beautiful movement.
IWC Schaffhausen har lanceret Pilot's Watch Chronograph 41 på digital Watches & Wonders messe. Den nye model har kasse i stål i en kompakt størrelse 41 millimeter og fås med en blå eller grøn urskive. Urene understreger IWC ekspertise i udviklingen af in-house værker og modellerne her har IWC's in-house 69385 kaliber, som er synlig igennem den gennemsigtige bagkasse.
Med det nye EasX-CHANGE-system og et udvalg af remme lavet af kalveskind, gummi eller stållænke er  Pilot's Watch Chronograph 41 det ultimative sportsur.
I 85 år har IWC konstrueret piloture skræddersyet til at opfylde de funktionelle krav og specifikke behov hos professionelle piloter. Oprindeligt udtænkt som præcis og pålidelige værktøjer til navigation, fejres de i dag for deres ikoniske cockpitinstrumentdesign, deres ekstreme robusthed og høje alsidighed. En grundpille i IWC Pilot's Watches-samlingen er kronografen. Den mekaniske stopur-funktion føjer ikke kun det typisk udseende af "tool-watch", men giver også næsten ubegrænsede muligheder i hverdagen.
"Bygget på succesen med vores Spitfire-kronografer fra 2019 introducerer vi nu Pilot's Watch Kronograf 41 i vores klassiske kollektion. EasX-CHANGE-systemet tilbyder et udvalg stort udvalg af remme og urerne kan tilpasses hurtigt til forskellige omgivelser. Kombineret med den nu 100m vandtæthed gør det uerne mere alsidighed og den perfekte ledsager til eventyr i luften på jorden eller ved vandet. For at understrege vores løbende engagement til innovation og teknisk ekspertise, har vi også givet den nye model vores in-house 69385 kaliber kronografværk, som er synlig igennem den gennemsigtige bagkasse, "forklarer Christoph Grainger- Herr, administrerende direktør for IWC Schaffhausen.
Pilot's Watch Chronograph 41 fås i fire referencer:
Ref. IW388101:
Kasse af rustfrit stål, blå urskive, rhodinerede visere, blå kalveskindrem.

Ref. IW388102:
Kasse af rustfrit stål, blå urskive, rhodinerede visere, lænke i stål.
Ref. IW388103:
Urkasse af rustfrit stål, grøn urskive, rhodinerede visere, brun kalveskindrem.
Ref. IW388104:
Urkasse af rustfrit stål, grøn urskive, rhodinerede hænder, armbånd i rustfrit stål.
Alle nye modeller har EasX-CHANGE-systemet, som giver brugeren mulighed for hurtigt og nemt at skifte remmen eller lænke. 
IN-HOUSE VÆRK OG GENNEMSIGTIG BAGKASSE
IWC in-house 69385 kaliber sikre en høj nøjagtig måling af stoptider op til 12 timer. Det mekaniske kronografværk består af 231 individuelle dele og er konstrueret med fokus på robusthed, pålidelighed og præcision. Stopurfunktion styres af et kolonnehjul, et kompleks komponent med to funktionelle niveauer, hvilket er utroligt udfordrende at fremstille. En tovejs palvikling system forsyner bevægelsen med energi effektivt omdanne bærerens aktivitet til spænding for hovedkilden. Gangreserven er ved fuld optrækning er på  46 timer.
Som alle IWC ure, så tilbyde IWC 6-års ekstra garanti - så du får 8 år i alt - hvis du registrer uret på My IWC Care programmet. Dette hjælper vi selvfølgelig med i forretningen.