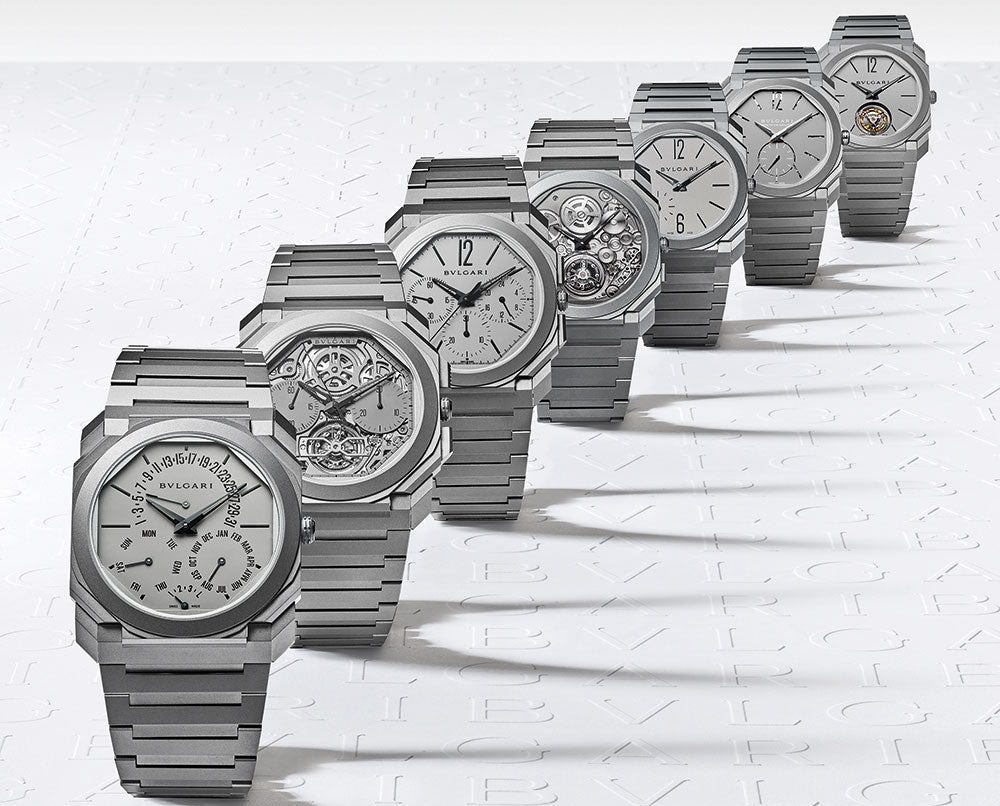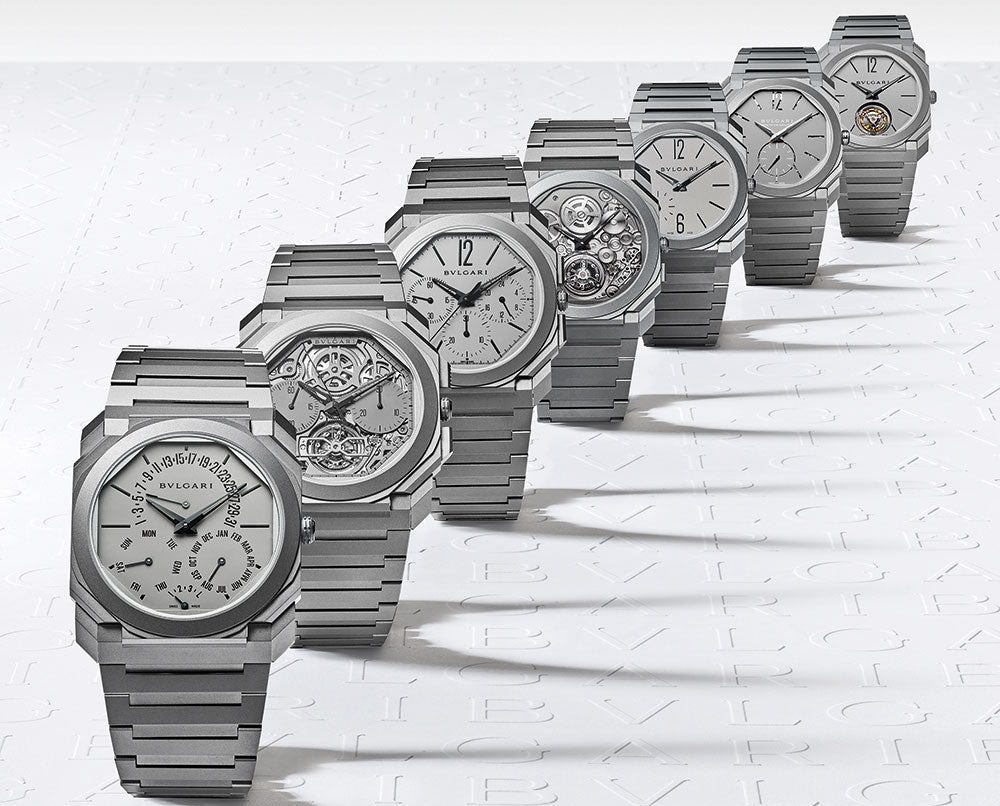 OCTO FINISSIMO PERPETUAL KALENDER, DEN SYVENDE VERDENSREKORD
Ref. 5470P-001 1/10. The second Monopusher Chronograph
Patek Philippe unveils its first chronograph work watch with a chronograph to tenths of a second short time measurements with a new, highly accurate and beautiful movement.
2014 - 2021: syv år, næsten 60 internationale priser og en syvende verdensrekord for Bvlgari med Octo Finissimo Perpetual Calendar for Bvlgari.
En af de mest bemærkelsesværdige historier i urindustrien, i det sidste årti, har været Bulgaris transformation fra en højt anset juveler, som også lavede ure, til en af ​​verdens mest teknisk avancerede udøvere af fin urmageri.
Især har Bulgari præget en niche for sig selv i ultra-tynde værker og kassen, en af ​​branchens mest udfordrende genrer. Selv almindelig urmageri kræver en bemærkelsesværdig grad af miniaturisering; ultra-tynd urmageri øger udfordringen eksponentielt. Værket reduceres til næsten ingenting, og for at producere et meget pålideligt og nøjagtigt urværk kræves der en så høj grad af specialkompetence og teknisk viden, at historisk ultratynd urmageri er blevet betragtet som en komplikation i sig selv.

Bulgari har, som først nævnt, slået og sat rekorder i ultra-tynde ure siden 2014, da den lancerede Octo Finissimo Ultra-Thin Tourbillon, og nu med den netop annoncerede rekord. Octo Finissimo Perpetual Calendar er kun 5,80 mm tyk - og dens værk, kaliber BVL 305, er kun 2,75 mm tyk. Uret lanceres i en titanium-kasse - det sædvanlige metal til Octo Finissimo-ure - men også i platin. Dette er endnu en nyhed - Bulgari har aldrig før lavet en Octo Finissimo i platin før nu.
Endnu en gang rykker Bulgari udvikling grænserne for nutidig fin urmageri, en dynamik, der, som nævnt, begyndte i 2014 og involverede redefineringen af arvskonventionerne fra traditionel urmageri år efter år baseret på moderne kodeks. Et vellykket resultat: Octo Finissimo har sat en trend og genopfundet den meget fine og moderne urmageri ved at bringe det touch så glimrende mestret af det italienske hus Bvlgari: L'Estetica della Meccanica eller kunsten for dybdegående innovation med hensyn til både form og materiale. Æstetik er uadskillelig fra funktionalitet, når det kommer til genfortolkning af en sofistikeret klassisk horologiske komplikation på en resolut moderne måde.
Resultatet? Ikke mindre end 408 komponenter interagerer inden for det ekstremt begrænsede kasse, der leveres af det slanke på kun 5,80 mm i Octo Finissimo Perpetual Calendar. Udviklingen af 2,75 mm kaliberen krævede, at ingeniører inden for automatiske værker fra Manufacture i Le Sentier udtænkte nye løsninger, såsom brugen af en mikrorotor og den optimale brug af rummet mellem komponenterne uden at reducere deres dimensioner.
Denne udvikling vidner om sandt geni inden for miniaturisering og styrker time- og minutviserne sammen med alle de evighedskalenderfunktioner: retrograd-displaydato, dag, måned og retrograde-display skudår. Funktionerne justeres ved hjælp af tre knapper: en for datoen kl. 14, en anden for måneden kl. 16 og en tredje for dagen mellem kl. 8 og 9.
Denne horologiske komplikation er gennemsyret af en følelse af magi. Denne evighedskalender symboliserer menneskehedens forhold til tiden, det flydende koncept, der giver rytme til eksistensen og til alle menneskelige aktiviteter, og som aldrig er blevet helt tæmmet.
Denne komplikation den højst opnåede for Octo Finissimo serien, og Octo Finissimo Perpetual Calendar tilbyder en talentfuld genfortolkning ved at fusionere urmagerkvalitet og italiensk æstetisk følsomhed. Den er, som skrevet ovenfor, tilgængelig i to versioner er, i titanium eller platin. Bæreren af uret vil være i stand til at se tiden uden at bekymre sig om at skulle justere indikationerne inden februar 2100, et skudår, der kræver justering af funktionerne af ... hans eller hendes efterkommere.
Efter at have sat sit præg ved århundredskiftet som en af de mest moderne modeller, ser Octo Finissimo Perpetual Calendar endnu længere frem og driver Bvlgari tættere mod det XXII. Århundrede.