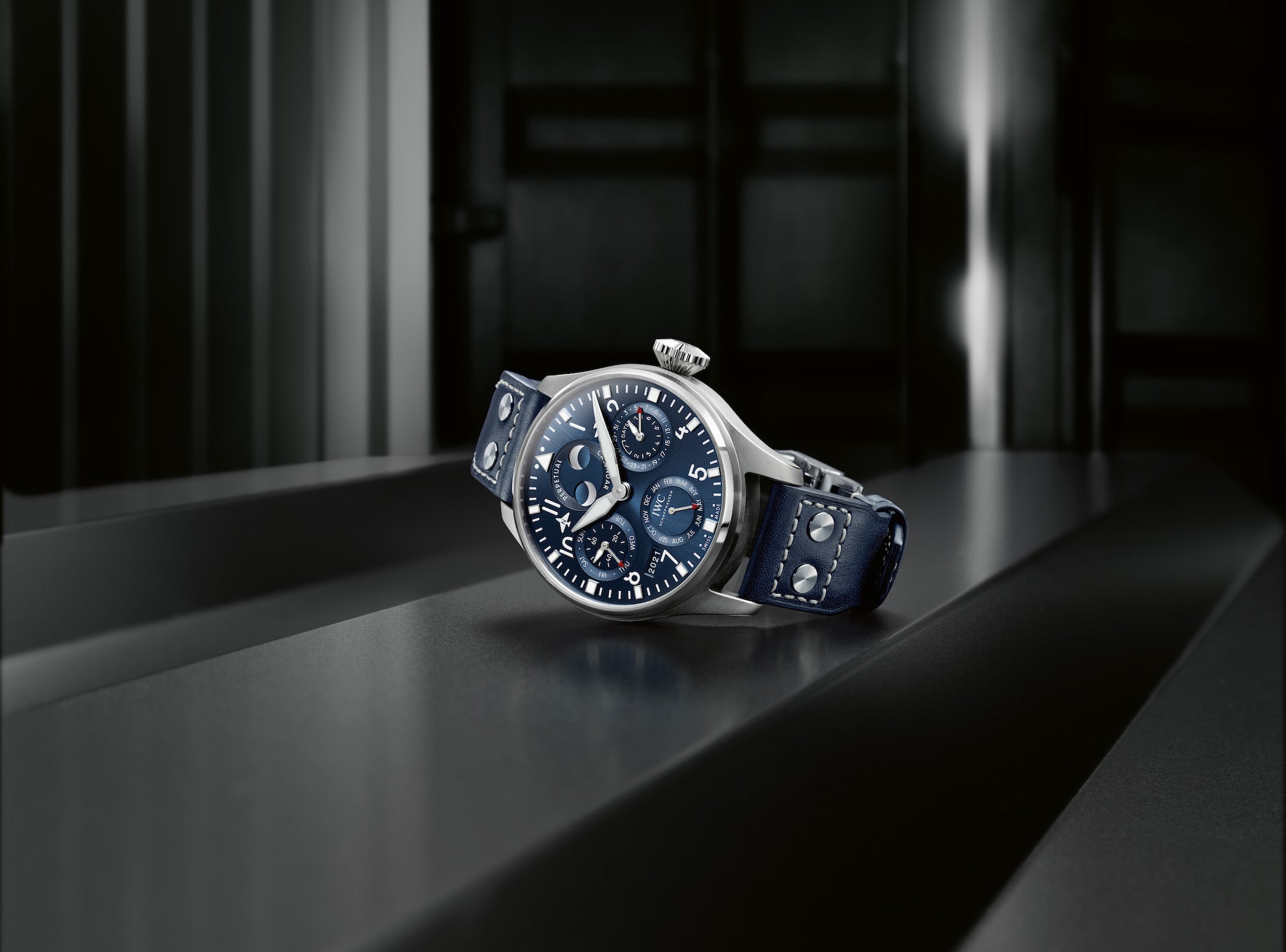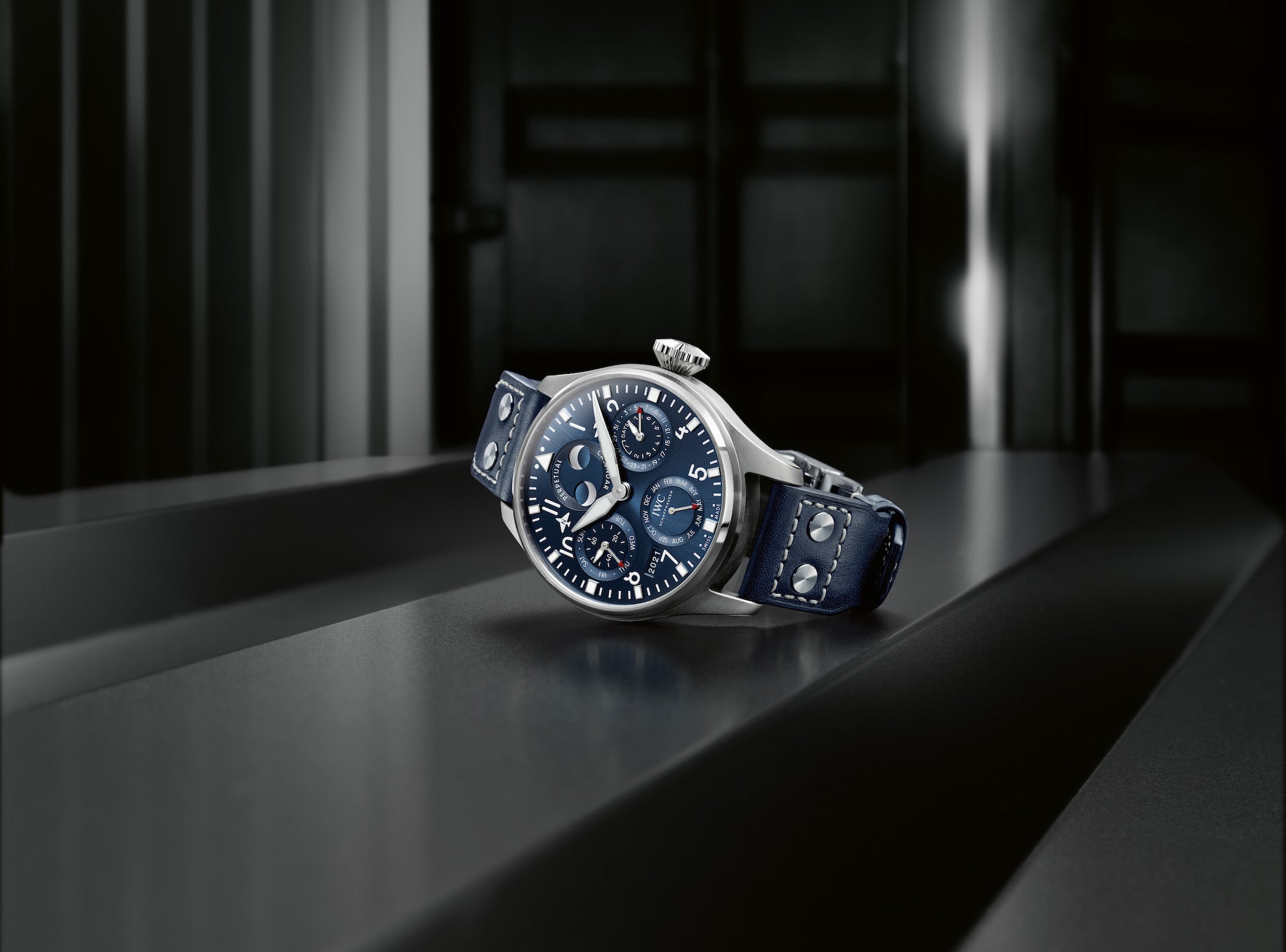 IWC INTRODUCERER NYT BIG PILOT'S UR MED PERPETUAL KALENDER
Ref. 5470P-001 1/10. The second Monopusher Chronograph
Patek Philippe unveils its first chronograph work watch with a chronograph to tenths of a second short time measurements with a new, highly accurate and beautiful movement.
IWC Schaffhausen har lanceret Big Pilot's Watch Perpetual Calendar til den digitale Watches & Wonders messe. Urkassen er i stå og en blå urskive fortsætter den mangeårige tradition for evighedskalenderure i Big Pilot's kollektionen. Urværket blev udviklet i 1980'erne af Kurt Klaus, og er IWCs legendariske evighedskalender, der automatisk fortæller forskellige månedslængder og skudår. IWC-in-house værket 52615 der er udstyret med med et Pellaton-systemet og med keramiske komponenter, kan betragtes igennem den gennemsigtige bagkasse.
Ingen anden komplikation har været at finde på Big Pilots store urskive så ofte som den evige kalender. Siden den første Big Pilot's Watch Perpetual Calendar blev præsenteret i 2006 i en begrænset udgave på 25 stykker i platin, er ikke mindre end 37 versioner af de ikoniske Big Pilot's design med en evig kalender er frigivet. Med Big Pilot's Watch Perpetual Calendar (Ref. IW503605), vender den legendariske komplikation tilbage til den klassiske kollektion. Uret har en urkasse i stål, en blå urskive og rhodineret hænder. Datovisning og gangreserveindikatoren er placeret kl. 3, månedsvisningen kl. 6. Ugedagen display og de små sekunder deler subdial ved klokken 9. Dobbelt månefasedisplay klokken 12 skildrer korrekt månefasen for den nordlige og Sydlige halvkugler og skal kun justeres med en dag efter 577,5 år.
DEN PERPETUALE KALENDER ER BRUGERVENLIG
Udviklet i 1980'erne af IWCs tidligere hovedurmager Kurt Klaus, den evige kalender automatisk viser de forskellige månedslængder såvel som skudår. Det geniale mekaniske program kræver ikke noget manuel korrektion indtil år 2100, når det forfaldne skudår vil være udeladt baseret på en undtagelsesregel på gregoriansk kalender. Et andet særpræg er det firecifrede årsvisning. En ekstra århundredeskyder er inkluderet, så dette ur kan vise året indtil 2499. Med alle dens subdials perfekt synkroniseret, kan kalenderen let indstilles via en enkelt krone, der tilbyder en grad af brugervenlighed, der er uden sidestykke for mekaniske kalendere. Den IWC in-house kaliber 52615 driver kalenderen modulet ved hjælp af en enkelt natlig skifteimpuls. Det automatisk værk omfatter 386 komponenter og blev konstrueret med fokus på maksimal præcision og kvalitet. Pellatons automatiske system bygger tilbyder en imponerende gangreserve på syv dage. De dele af optræksmekanismen, der er udsat for høje spændinger er lavet af næsten slidfri keramik. Det dekoreret urværk er synligt igennem et glasset på den gennemsigtige bagkasse. 

Big Pilot's Watch Perpetual Calendar er tilgængelig fra 7. April 2021.
Som alle IWC ure, så tilbyde IWC 6-års ekstra garanti - så du får 8 år i alt - hvis du registrer uret på My IWC Care programmet. Dette hjælper vi selvfølgelig med i forretningen.