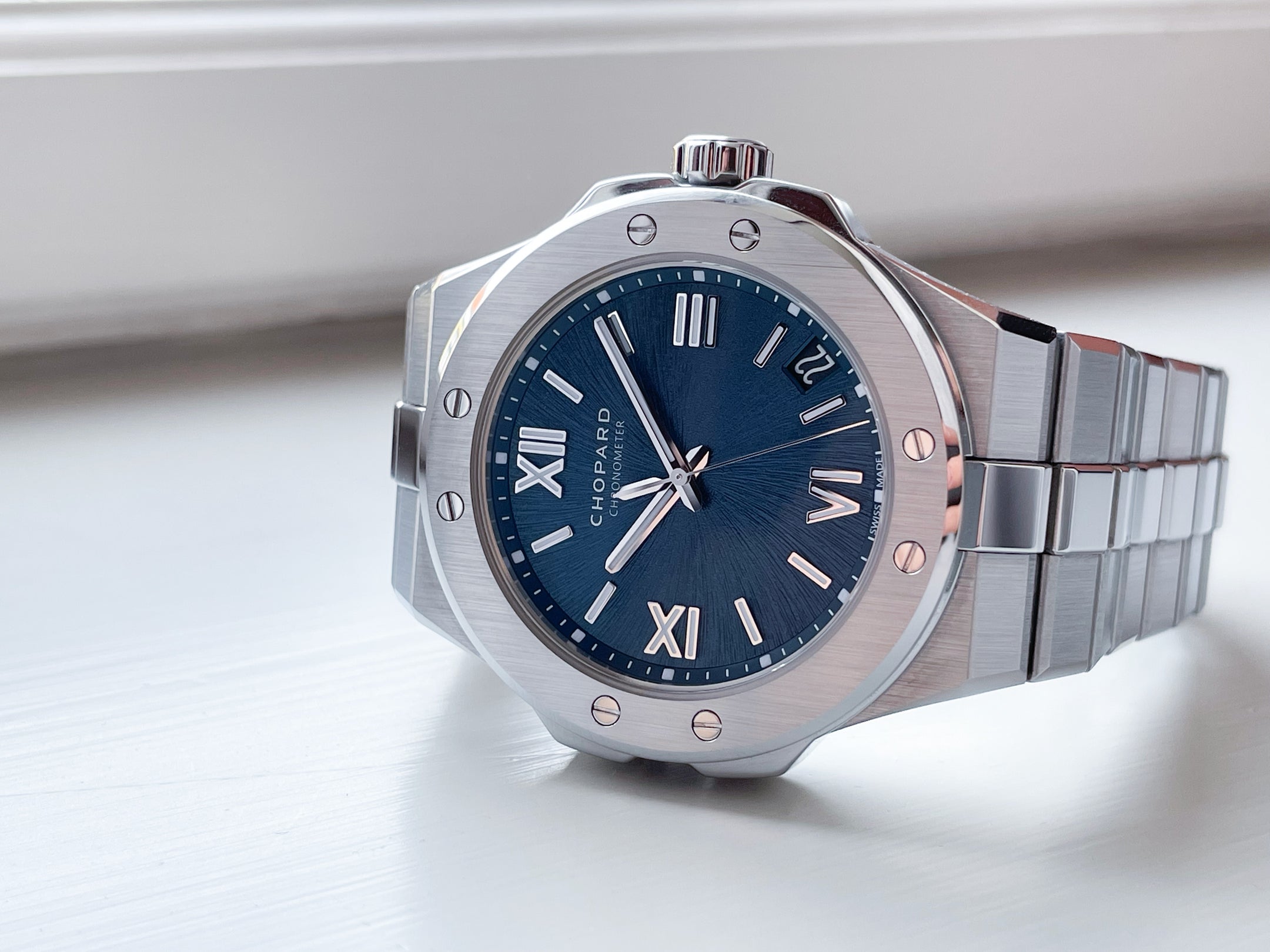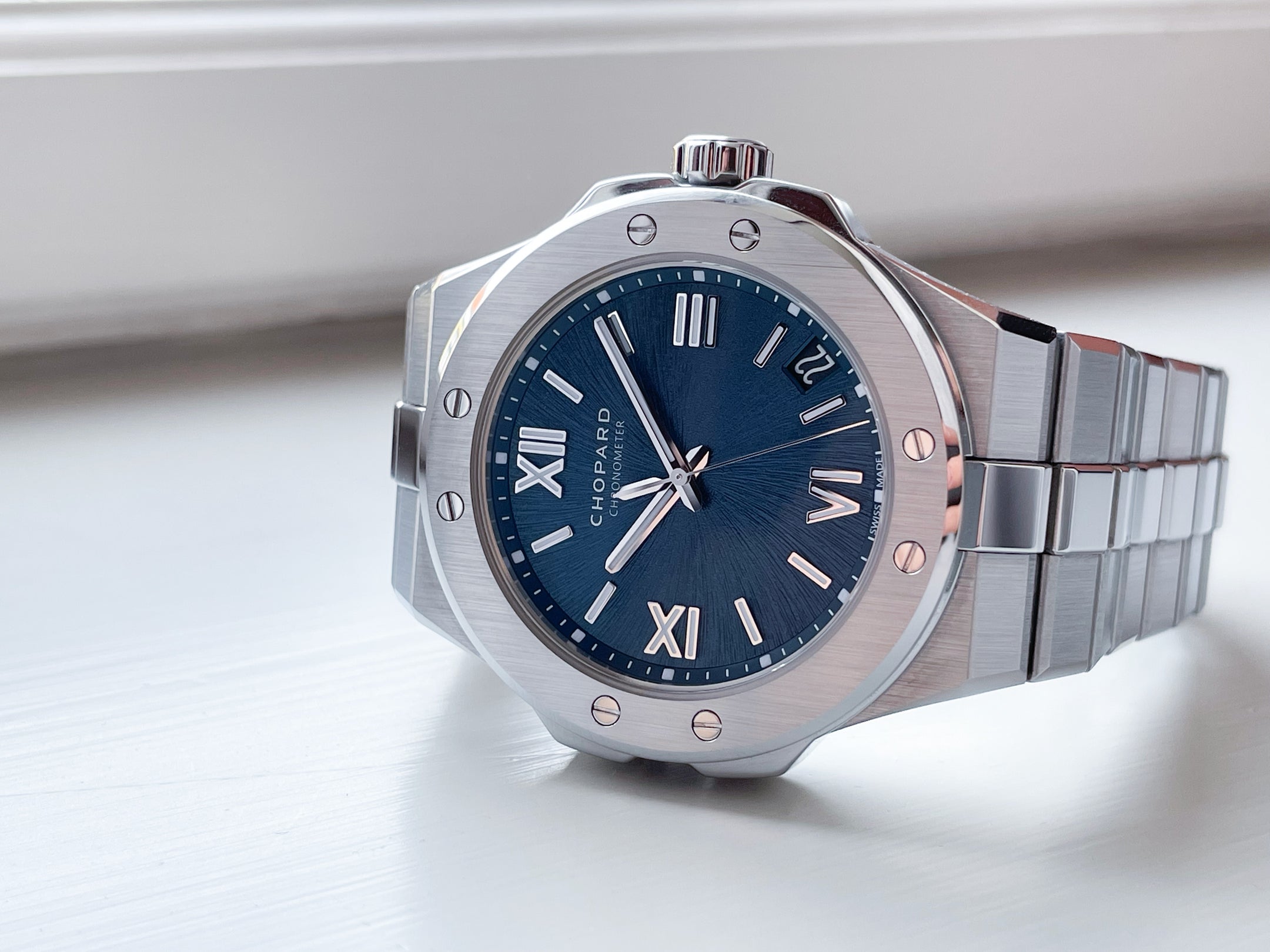 Chopard Alpine Eagle - En uge på håndleddet
Ref. 5470P-001 1/10. The second Monopusher Chronograph
Patek Philippe unveils its first chronograph work watch with a chronograph to tenths of a second short time measurements with a new, highly accurate and beautiful movement.
Vi har haft Chopard Alpine Eagle på håndleddet i en uge. Et luksussportsur, der trækker rødder tilbage til 1970'erne og ser ind i fremtiden for hvad man kan opnå med skivedesign og effekter. Det er et moderne ur, der emmer af luksus og prestige.

Lidt om historien bag Alpine Eagle
Uret er en re-edition af St. Moritz, som blev designet af Karl-Friedrich Scheufele,, der i dag er meddirektør for Chopard. Uret er, som navnet også indikerer, en hyldest til alperne og til et af de dyr der hersker der, ørnen. Dette kommer specielt til udtryk i skiven, der er designet ud fra ørnens iris.

Kasse og lænke er lavet i Lucent Stål A233, som er ultralet. Det er kombineret af blank- og matpoleringer. Urværket er inhouse og Chronometer certificeret.

Vi har glædet os meget til at skulle forhandle Alpine Eagle og selvfølgelig også til at prøve det på, så vi kunne skrive denne artikel.

Førstehåndsindtrykket da vi tog uret op af kassen og lyset ramte skiven, var Wauw. Det er en af de mest veludførte skiver til dato. Modellen vi har testet var med den blå skive og det er nærmest magisk når man sidder med uret i solen og ser spillet i skiven. Alene på baggrund af dette, så er vi ret sikre på, at uret vil falde i smag hos de fleste der elsker luksussportsure.

Videre til kasse og lænke, så er disse utrolig veludførte. Lænken har blankpolerede mellemled og en smukt integreret lås, der skjuler den funktionelle foldelås. Når man skal justere lænken gøres det ved at skrue skruen ud, der sidder midt på leddet, når man ser på bagsiden af lænken. Kassen har på lynetten de 8 ikoniske skruer der alle er sat til perfektion, så hvis du følger dem, så kan du se at de omslutter formen på kassen. Hvis vi ser på bagsiden ud uret, kan vi se ind til det Chronometer certificerede værk, der byder på en gangreserve på min. 60 timer.
Værket er flot udført og det lever helt op til Chopards høje niveau for inhouse værker.

Photo: Chopard.com
Kronen er flot udført med den ikoniske stjerne.

Uret har, i den uge vi har gået med det, imponeret og har på alle måder været en fornøjelse at gå med. Det er, som først skrevet, et ur der emmer af 1970'erne, hvor modeller som Audemars Piguet Royal Oak og Patek Philippe Nautilus så dagens lys med deres interegede lænker og en ny fortolkning  af hvordan et ur skulle se ud, i den klasse. Designet på Alpine Eagle har også disse elementer, det har den integrerede lænke, den skjulte lås og detaljerne med skruerne på lynetten som gør udtrykket i uret meget industrielt men stadig holder den flotte stil, så man ikke er i tvivl om, at det er et luksussportsur.


Det eneste ønske vi kunne have til uret er at kassen kunne være lidt smallere og lænken lidt tyndere. Men det er meget lidt og helt sikkert ikke noget der er afgørende for helhedsindtrykket af uret.

Overordnet set har det været en fornøjelse at have uret på og det er bestemt en kandidat til dig, der ønsker et luksussportsur som er tilgængeligt og med en yderst rimelig pris.

Til sidst er der kun at sige tak til Chopard for at låne os uret til denne artikel.