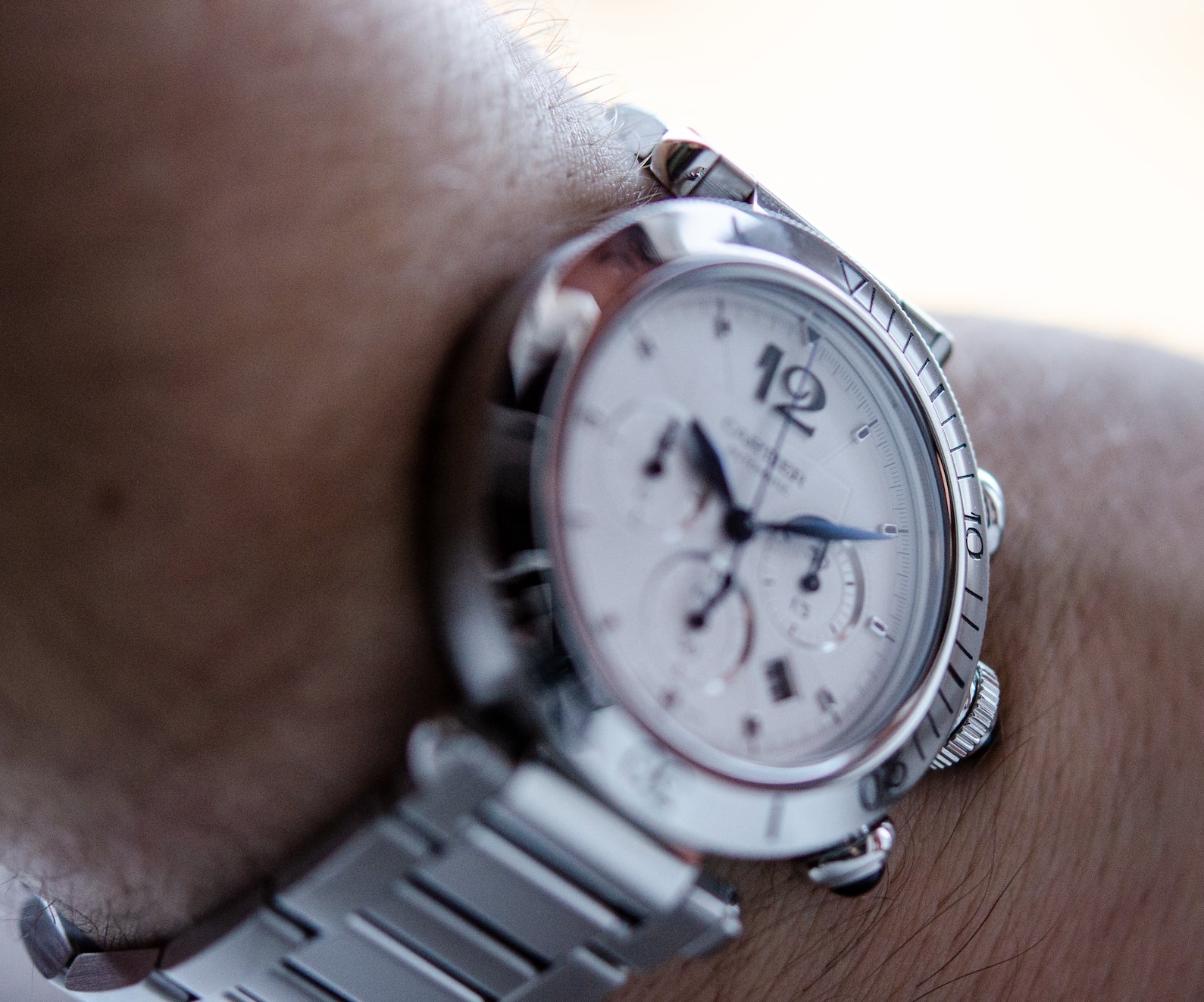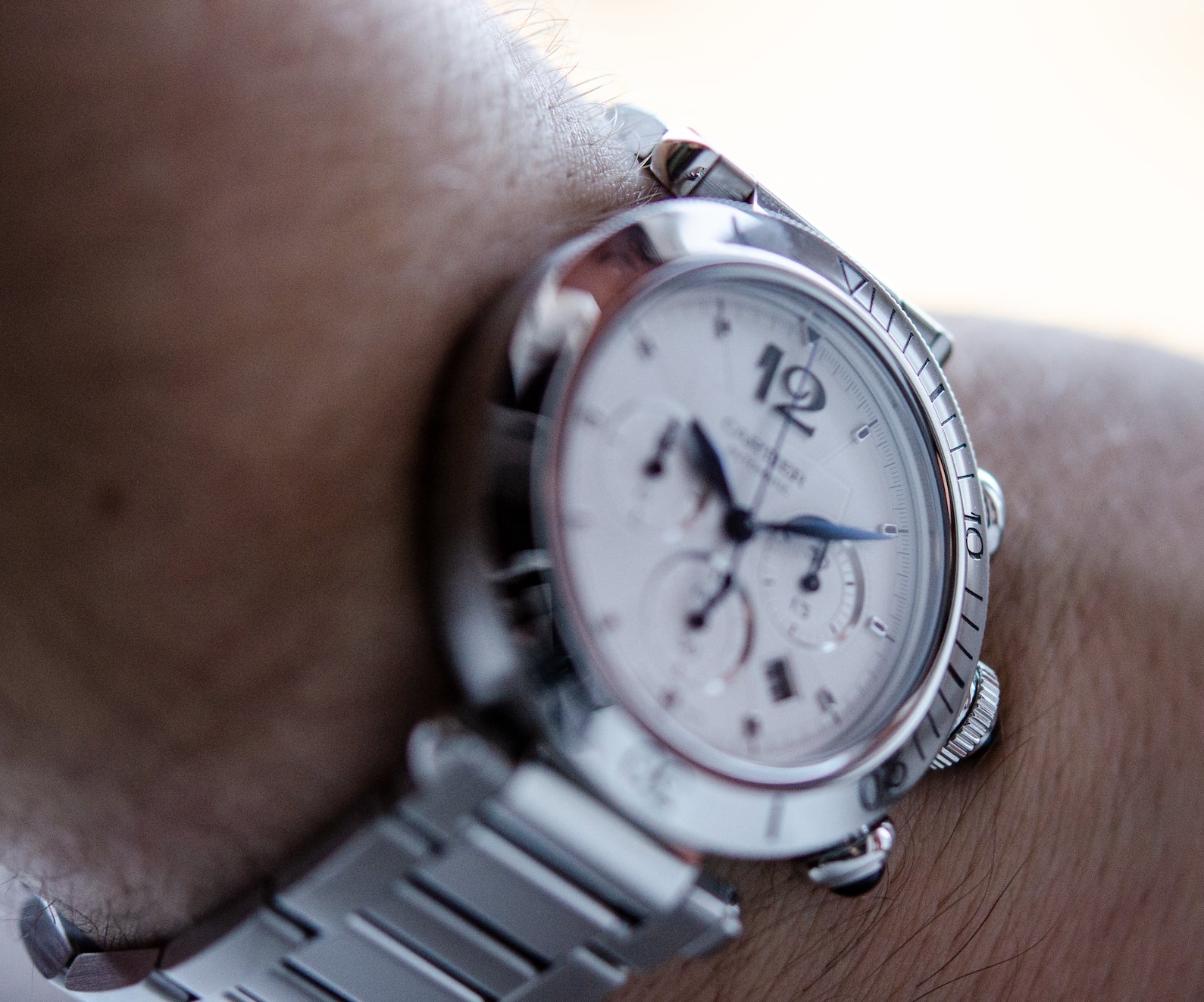 Cartier Pasha Chronograph 41mm. - En uge på håndleddet
Ref. 5470P-001 1/10. The second Monopusher Chronograph
Patek Philippe unveils its first chronograph work watch with a chronograph to tenths of a second short time measurements with a new, highly accurate and beautiful movement.
Vi har haft det nye Cartier Pasha Chronograph 41mm. på håndleddet i en uge, læs med nedenfor om et af Cartiers store ikoner, og vores tanker om det.

Cartier har de seneste år haft et særligt fokus på deres relancering af Pasha-linjen. Pasha så dagens lys for første gang i 1980'erne, og er ligesom mange andre af Cartiers unikke designs, meget let genkendelig.
Modellen henvender sig til de stilbevidste og selvbevidste mennesker. Derfor har den også fået ambassadører som skuespilleren Rami Malek og skuespiller/sanger Willow Smith.

Modellen som vi har haft på er den nyeste der er kommet til Pasha-familien. Den har fået Quickswitch og EasyLink, som gør det meget let at justere lænken eller skifte fra lænke til rem derhjemme. Quickswitch er ikke fremmede for Cartier, da eks. deres Santos-modeller har haft dette længe, endvidere er funktionen ikke eksklusiv for Cartier, da mange andre brands også er begyndt at integrere denne funktion. Men Cartier var nogle af de første der gjorde det, og måden det er udført på, er i vores optik en af de bedste. Da den er meget brugervenlig, og smuk udført, så du eks. Ikke lægger mærke til den, når du ser på lænken indvendigt.

En anden meget karakteristisk detalje er den blå sten på de tre kroner (cabochon) en smuk og finurlig detalje, som altid har været på Cartiers ure, og som er med til at gøre dem genkendelige.
Optrækskronen er beskyttet af en ydre krone, og begge har selvfølgelig den karakteriske blå sten.


Uret måler 41mm. men føles som et større ur, ren visuelt. Den er et ur man lægger mærke til og alligevel forsvinder det på armen, når man går med det, da bærekomforten er helt i top. Det er som med Cartiers andre ure uundgåeligt at lægge mærke til,l hvor meget Cartier går op i den ergonomi der helst skal være, når man bærer et ur. Dette skrev vi også om, da vi havde Cartier Santos på håndleddet i en uge.

Urværket er 1904-CH MC, som bygger på basen Cartier 1904-PS MC, der blev introduceret i 2010. Urværket er et in-house Cartier med 48 timers gangreserve og 28.880 bph. Grundkaliberen er også den Piaget har valgt at bygge deres Polo S Chronograph (2016) på.

Cartier Pasha Chronograph 41mm. Fås i stål, som er den udgave vi har testet, dertil fås den også i en 18k guld udgave, der kommer på en smuk læderrem.


Designet er på nogen måder meget specielt. Men samtidig utroligt harmonisk. Den runde skive, der munder ud i claud de Paris "hornene", som helt igennem gør designet så genkendeligt. Det er ikonisk, det er særpræget, det er unikt, præcis som et Cartier skal være. Kom ned og prøv uret, eller et af de andre Cartier Pasha - vi lover dig en god oplevelse og ikoniske design.

Pris:

Stål på lænke: 75.000 kr.

18k guld: 184.000 kr.

Diameter: 41mm
Højde : 11.97mm
Urkasse: 18k guld eller stål
Skive: White
Lænke/rem: To alligator remme med QuickSwitch (18k guld) eller QuickSwitch/EasyLink lænke and alligator strap (steel version.)
Kaliber: 1904-CH MC, automatisk
Gangserve: 48 timer