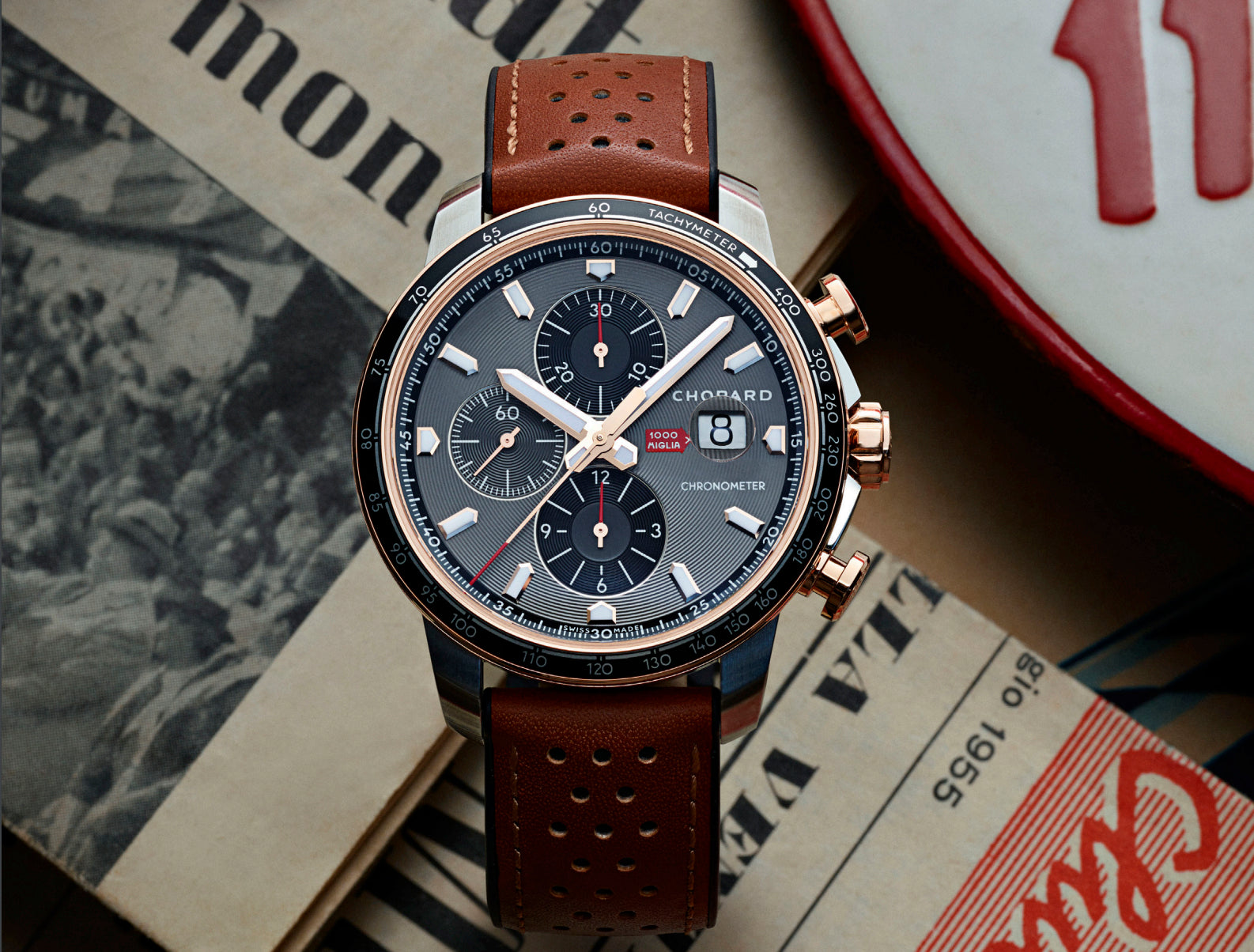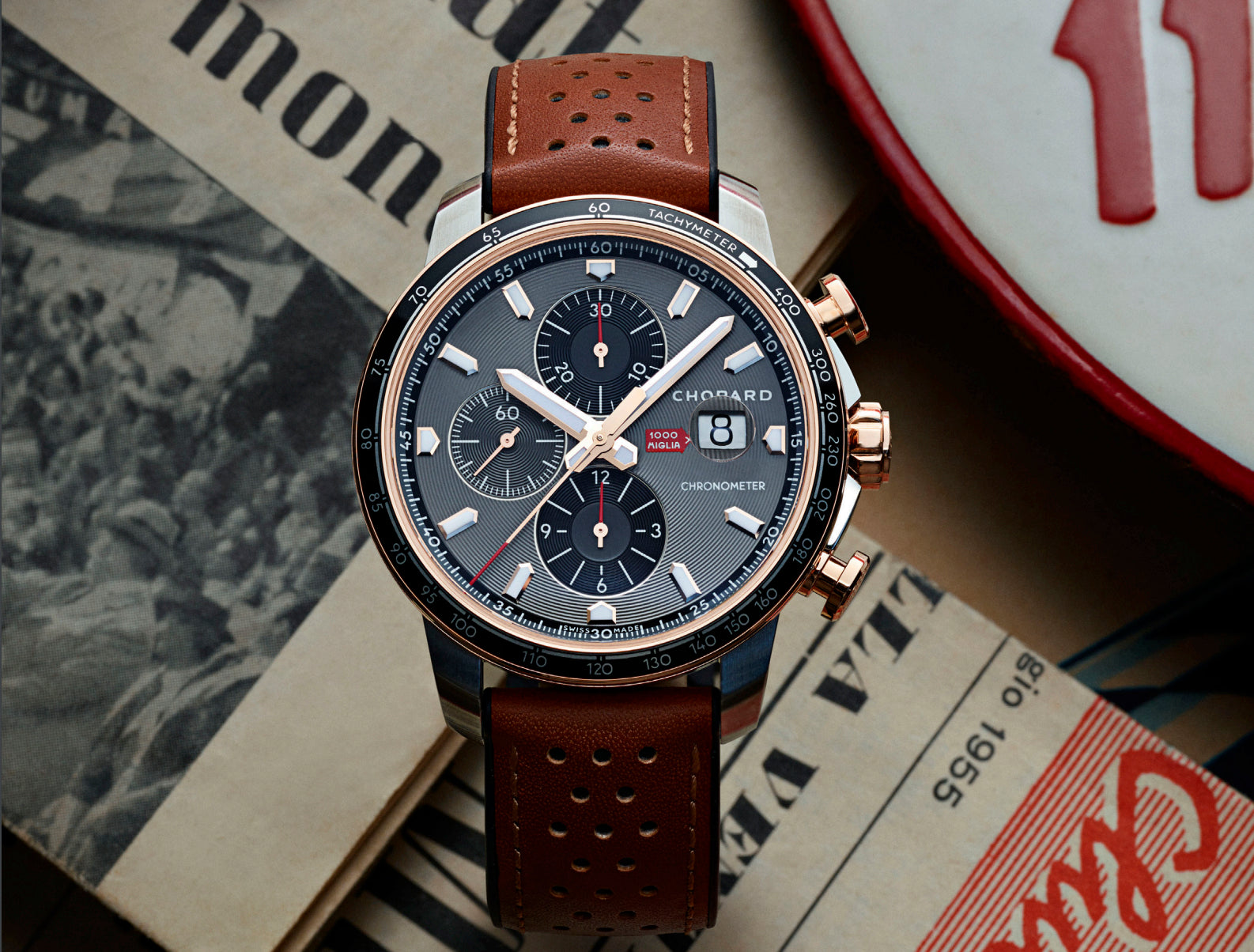 CHOPARD HYLDER KLASSISK RALLY OG NYE FORMER TIL IKONISK MODEL
Ref. 5470P-001 1/10. The second Monopusher Chronograph
Patek Philippe unveils its first chronograph work watch with a chronograph to tenths of a second short time measurements with a new, highly accurate and beautiful movement.
MILLE MIGLIA 2019 RACE EDITION
I 2018 kunne Chopard fejre 30-års jubilæum som Mille Miglia-samarbejdspartner. Mille Miglia er som bekendt et 1.600 kilometer langt rally fra Brescia til Rom – og tilbage. Et rally, hvor over 400 klassiske biler deltager og kører en rute, som Enzo Ferrari døbte "la corsa più bella del mondo".
Dette spektakulære rally understreger Chopards direktør og medejer, Karl-Friedrich Scheufeles, personlige interesse i klassiske biler – og helst de hurtige af slagsen.
Karl-Friedrich Scheufele sidder atter bag rattet under Mille Miglia 2019, og ved siden af ham sidder, traditionen tro, hans gode ven og seksdobbelte Le Mans-vinder Jacky Ickx og nyder løbet fra passagersædet.
For 31. gang lancerer Chopard en serie nye ure, der hylder det legendariske rally, der blev kørt første gang i 1920'erne. 2019-versionerne af Mille Miglia lanceres både i stål og kombineret guld og stål, hvoraf førstnævnte er limiteret til 1.000 styk, og guld/stål-versionen til 250 styk. Begge varianter har en diameter på 44 millimeter, og skruebagkassen sikrer, at urene er vandtætte til 100 meter, på trods af at de tilbyder kronograf med mulighed for at aflæse 1/8 sekunder samt en sort tachymeter-krans af aluminium, så man kan se, hvor hurtigt man har lagt de seneste kilometer bag sig.
De automatiske kronografværker, der gemmer sig bag den dekorerede bagkasse, er chronometer-certificeret af Swiss Official Chronometer Testing Institute (COSC) og yder to hele dages gangreserve, når de er fuldt optrukket.
Både stål- og guld/stål-versionen af Mille Miglia 2019 Race Edition tilbydes med to remme: en cognacfarvet perforeret rem med kontrastsyninger (der er inspireret af klassiske kørehandsker) samt en sort gummirem.
HAPPY SPORT OVAL
Ikonisk. Det kan man godt tillade at kalde det legesyge og dog meget luksuriøse Happy Sport, der blev lanceret i 1993 og derfor kan fejre 26 år i 2019. Når et ur har haft så lang en produktionstid og stadig er tro overfor de oprindelige designideer, så er det på sin plads at kalde det for et designikon.
Designet af Happy Sport anno 2019 adskiller sig dog fra tidligere design, idet Chopard har lanceret Happy Sport Oval med en diameter på 31 millimeter, der formmæssigt er inspireret af en talismansk juvel. Med sin legesyge tilgang til højkaratsdiamanter, der nærmest flyder mellem to safirglas, forener Chopard på luksuriøs måde deres smykkeproduktion med produktion af fine ure og inhouseværker. Inhouseværker er især vigtige at nævne i sammenhæng med Happy Sport Oval, idet denne nye variant benytter værkkaliber 01.09-C, der er designet og udviklet af Chopard.
Der er tre varianter af Happy Sport Oval: stål, kombineret stål og guld samt rosaguld. Traditionen tre har alle tre varianter lænke i matchende materiale, og konstruktion af denne lænke sikrer optimal bærekomfort.
Skrevet af: Kristian Haagen